A prevalent issue in today's society is our impact on the environment and what more we can do to choose sustainable and recyclable products. One choice we can make is to choose recyclable plastic pallet boxes, over more traditional packaging, like wooden or cardboard alternatives.
This article will compare the key advantages of using plastic pallet boxes over traditional methods while highlighting their benefits in the safe and efficient transportation of goods.
What are pallet boxes used for?
Pallet boxes are used in a wide variety of businesses and industries, including:
Warehouses
Logistic Companies
Food Suppliers
Retail Stores
Manufacturing Companies
Pharmaceutical Companies
Pallet boxes are versatile products, useful for storing and transporting goods. They work well in organisations for items in dispatch and delivery, such as food and beverages, pharmaceuticals, furniture, electronics, clothing, and office supplies.
But what sets plastic pallet boxes apart from traditional packaging, such as cardboard or wooden boxes?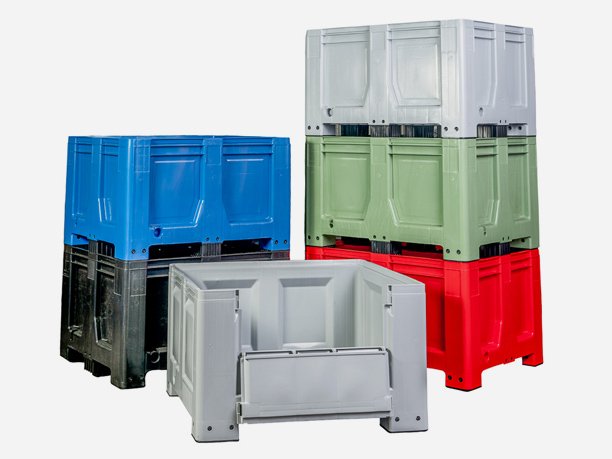 What are the benefits of plastic pallet boxes?
Plastic pallet boxes are made from recycled but durable plastic materials. At Rebox Storage, we stock a range of plastic pallet boxes, including heavy-duty pallets, alongside branded products for a professional image.
Below is a list of some of the key benefits of plastic pallets.
Are plastic pallet boxes more durable than cardboard boxes?
Plastic pallet boxes are made from recycled plastic materials, such as polyethylene and polypropylene, meaning they are extremely durable and last for many years. This makes them the perfect solution for goods transportation as they can easily survive wear and tear from deliveries, unlike cardboard or wooden boxes, which are susceptible to damage from water or pests alike. Their durability means in the long run they are much more cost-effective due to lasting longer without the need for replacement.
Are plastic pallet boxes recyclable?
One of the greatest benefits of using plastic pallet boxes is their reusability and recyclability. More and more businesses are concerned with their impact on the environment, and rightly so. Thanks to the recycled plastic materials used to create plastic pallet boxes, businesses can reuse their pallets over and over, without fear of breakage. When eventually it does come time to replace the pallets, they can be easily recycled, reducing waste and your overall carbon footprint for your business.
Can plastic pallet boxes carry a wide variety of products?
Plastic pallet boxes are versatile in that they are the perfect product for storing and transporting various different goods. Whether your business needs to transport heavy, bulky items, or delicate clothing, plastic pallets are advantageous over their traditional counterparts. Plastic pallet boxes are non-porous, making them less susceptible to bacteria, easier to clean and hygienic, and perfect for food storage, whilst remaining safe from splinters or nails. Cardboard and wooden boxes do not give you that guarantee that your goods are going to be safe from damage, unlike plastic pallets.
Are plastic pallets space-saving?
Due to their standardised design, plastic pallet boxes are easily stackable, saving you space both during storage in warehouses and during transportation. This easy stacking facilitates an easier loading and unloading process of all goods.
Saving on space helps you save on resources, positively influencing your impact on the environment via manufacturing and transportation costs.
As we discussed earlier, wooden and cardboard boxes are much less durable than plastic options, meaning stacking them poses a higher risk of breakage, ultimately damaging your goods inside.
Can plastic pallet boxes be used with various moving equipment?
The short answer is, yes. Plastic pallet boxes are compatible with many automated systems, stepping into the increasingly revolutionised world of manufacturing and logistics industries.
Forklifts no longer need to transport dirty wooden pallets, instead replace them with easy-to-clean plastic pallet boxes.
Can plastic pallets save me money?
Switching to using only plastic pallet boxes can be a cost-effective alternative to cardboard and wooden products. As we've discussed, the durability and reusability of plastic pallets reduce their need for constant replacement. This way, you save money on repurchasing costs, whilst also saving money on packaging costs when you buy these products in bulk.
Every day, more and more industries are making the switch from traditional to plastic packaging, to not only save money but also the environment. If you haven't already considered switching, read on.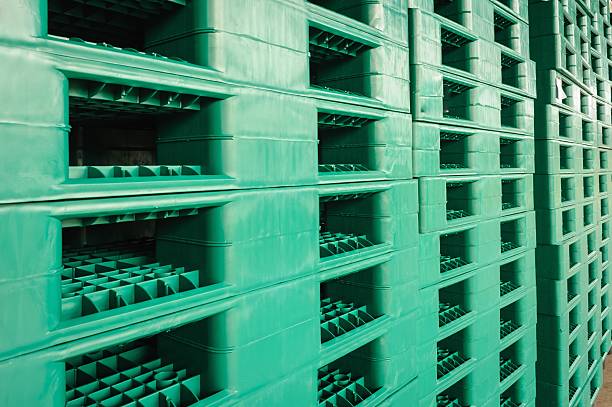 What are some limitations of traditional packaging?
As we've explored the advantages of plastic pallet boxes, we can now look into what limitations using traditional packaging methods brings.
Firstly, using products made from cardboard and wood can have a significant ecological impact on your footprint. Cardboard production substantially uses water and energy, while the production of wooden packaging contributes to deforestation. In addition to this, they contribute to landfills from their lack of recyclability and limited durability.
Also contributing to an increased carbon footprint is their increased transportation costs, leading to higher carbon emissions. Due to their non-uniform design and use of heavier materials, it will cost you more to transport your pallets, as opposed to their lighter counterparts.
Finally, you may also end up paying more for using traditional packaging due to more strict regulatory compliance. Meeting international standards can be more of a challenge with wooden and cardboard packaging due to needing additional treatments and inspections, therefore delaying your services and increasing your costs.
There are many advantages to using plastic products. To learn more about the eco-friendly benefits of plastic products, read our article 'A sustainable approach to storage: The eco-friendly benefits of plastic storage boxes'.
At Rebox Storage, we are proud to stock a wide range of recyclable plastic storage products, including plastic pallet boxes, suitable for all industries. With over 30 years of experience, we are experts in all things storage and organisation. We offer UK-wide next-day delivery and a 30-day return money-back guarantee. To speak with a member of our expert team, get in touch with us to arrange a quote.